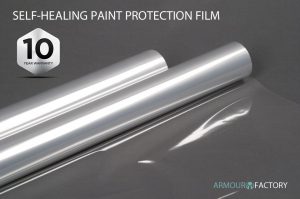 Here at ArmourFactory, not only do we supply and install 'off the shelf' paint protection film kits for cars, motorcycles, bicycles, marine, aero and industrial applications, we also design and install our own bespoke kits – often referred to as 'bulk' installations – using the finest raw sheet material, specialist design skills, professional CAD software and in-house plotting equipment. Here's how we do it…
COFFEE & A CHAT
Arrange a suitable date and time to bring your car, motorcycle, bicycle or whatever the application may be to us. We can sit down and discuss your paint protection requirements and the areas to be covered over a coffee . We'll demonstrate the benefits of PPF, discuss costs and agree a timescale for the work to be carried out.  Leave your pride and joy in our very capable hands and let us take care of the rest.
DESIGN
We'll get to work on designing the paint protection film templates that will provide the maximum level of protection, whilst also taking into consideration overall aesthetic appeal and budget. As we will use your vehicle or object as a 'mule' to shape and mould the templated sections, you can be assured that an extremely high standard of fit and finish will be achieved. Our initial hand-sketched drawings will be converted to fully scalable, precise template files using specialist CAD software prior to final nesting, cutting and installation.
INSTALLATION
Once we are completely satisfied that each bespoke section fits perfectly, we will cut a complete PPF kit tailored specifically for your application, in-house using our professional grade plotter.  The specification of the kit will have been pre-determined during our initial consultation and  may be of a standard, self-healing, matte, tinted or carbon finish. We  will then carry out the installation in our workshop, an area of which has been fitted out especially to facilitate a clean, dust-free and well illuminated working environment.
COMPLETION
Upon completion, we'll carry out a full inspection to ensure that we have achieved our usual high standards of workmanship, prior to arranging payment and organising the collection of your pride and joy. Alternatively, we can arrange secure, fully insured delivery to any specified UK mainland address and, of course, at your convenience. At this point, we'll run through all of the work carried out to ensure that you are completely satisfied and we'll use this as an opportunity to explain any warranty and maintenance requirements that may be applicable. Job done!
Thinking Of Developing Your Skills Or Expanding Your Existing Business?
Then Why Not Consider Becoming An ArmourFactory Accredited Installer?