ArmourFactory are proud to be associated with Gtechniq – manufacturer of the world's finest automotive cleaning products and protective coatings. As an accredited Gtechniq detailer and the only authorised supplier within the Ribble Valley, we are factory trained and therefore have the knowledge and expertise to apply Gtechniq's range of specialist coatings to your vehicle's bodywork and interior surfaces.
Often referred to as 'ceramic', 'nano' 'glass' or '10h' coatings, there are many unsubstantiated claims within the car care industry about how effective similar products actually are. However, as a reputable and innovative company, we are constantly evaluating new technologies and trialing products that each claim to surpass the last. We can safely say that, in our opinion, there are quite simply no other ceramic coatings or hydrophobic products that come close to the Gtechniq range, in particular their new flagship offering – Crystal Serum Ultra.
On this basis, and with several years' experience of using Gtechniq products to cleanse, de-contaminate and protect some of the finest motor cars that money can buy, we can whole-heartedly recommend and endorse Gtechniq as the number one premium manufacturer with 100% confidence.
Please use our Pricing and Reservation Module (below) to obtain an estimate for professional application to your particular vehicle. You can also purchase the entire Gtechniq product range* directly from us by visiting our online store.
ArmourFactory are the only Gtechniq Accredited Detailer in the Ribble Valley, providing automotive detailing services to discerning clients in Whalley, Clitheroe, Burnley, Blackburn, Manchester, Preston, The Fylde Coast and surrounding areas. However, as we are not geographically restricted, we can offer our Gtechniq detailing and surface protection services to individual clients, car and motorcycle dealerships and automotive companies on a nationwide basis.
* Excludes certain 'professional application only' products such as Crystal Serum Ultra.
How It Works
* Crystal Serum Ultra is Gtechniq's top-of-the-range ceramic coating which is supplied with a comprehensive 9 year guarantee and is only available for professional application by ArmourFactory or a Gtechniq accredited detailer. Crystal Serum Light and C1 Crystal Lacquer are available as an alternative if DIY application is required.
"Crystal Serum Ultra is the most effective automotive paint protection treatment currently on the market, thus allowing you to retain your car's original factory finish, lustre and shine whilst prolonging the life of your paintwork".
The key to Crystal Serum Ultra's performance gain is the introduction of a revolutionary new 7nm nanoparticle alongside an existing 20nm nanoparticle, and increasing the ratio of crosslinkers which reinforce and thicken the top layer of the coating.
The hard 10h top and softer 7h base layer offer improved swirl resistance over regular 9h paint protection coatings. Compared to standard ceramic paint coatings, Crystal Serum Ultra can withstand even the strongest wash chemicals, tree sap, bird lime and environmental fallout.
The molecular structure of the hard top layer is exceptionally chemical resistant. Crystal Serum Ultra provides an effective barrier against swirl marks and marring in vehicle paintwork caused by improper washing techniques and general day-to-day wear and tear.
An additional benefit from having a flexible base layer and hard top layer is that Crystal Serum Ultra is very resistant to extreme heat changes, even from -40 degrees Celsius to +250 degrees Celsius.
Crystal Serum Ultra can be applied either as a stand-alone paint protection product or, for the best hydrophobic (water beading) performance, it can be over coated with Gtechniq EXOv3 or C2 Liquid Crystal. Please use the Pricing and Reservation Module below to obtain an estimate.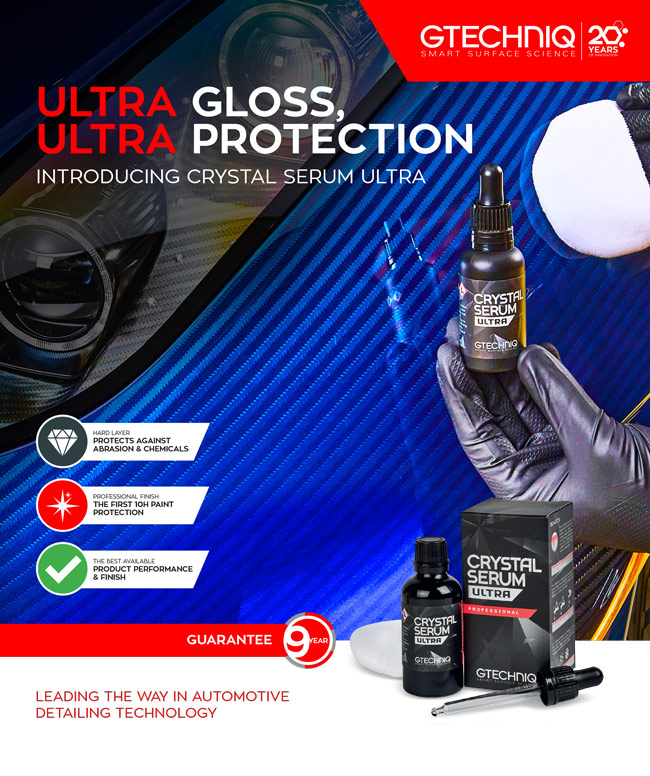 * PLEASE NOTE: Prices shown are an estimation based upon your vehicle type and are for guideline purposes only. For a specific quotation, a consultation to determine the actual condition of your paintwork will be required.
Complete Product Range
In addition to market leading ceramic coatings, Gtechniq also supply a comprehensive range of environmentally friendly, pH neutral products and hydrophobic coatings designed to cleanse and protect all vehicle substrates including glass, plastic, metal, leather, fabric and upholstery, including anti-bacterial agents for interior application. Download the complete product brochure by clicking opposite.
Gtechniq 'How To' Videos
Learn How To Use Many Of The Products From The Current Gtechniq Range