Carbon fibre and composites are the materials of choice when it comes to the design and manufacture of high performance components for the automotive industry. Not least because of their strength and light weight, but they are also less prone to wear and tear, they do not corrode, they can be formed into complex shapes and intricate patterns and they have excellent thermal properties… oh, and they look absolutely gorgeous… or, at least, they should do! We offer the following carbon fibre and composite services:-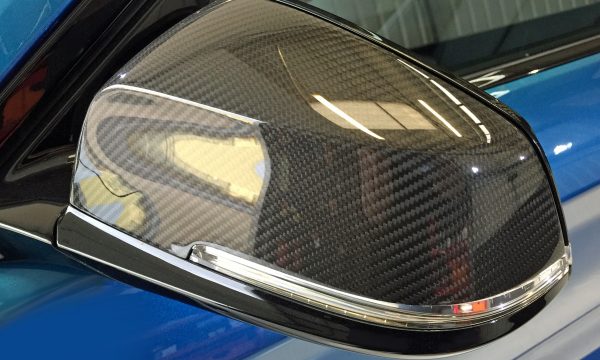 BMW M2 Carbon Skinned Mirror Cap

Carbon Skinning
In basic terms, carbon skinning is the art of taking a non-carbon object and covering it with a layer of carbon fibre weave then lacquering it to make it look like an original / OEM carbon fibre product. This can be anything from a car wing mirror or cockpit trim section to a motorcycle cam belt cover or headlamp surround. The raw carbon fabric is available in a range of different weave patterns so, by carefully selecting the correct weave we can skin almost anything, from an object with simple curves and relatively flat surfaces to more complex, intricate shapes. It is also possible to use coloured carbon fabrics (red, blue, green) to create a more unique look.
Please bear in mind, as carbon skinning is a process whereby we 'layer' carbon fabric on top of an existing object, this process is usually reserved for cosmetic applications only. It is not suitable for projects that require accurate measurements or specific tolerances.
Bespoke Production
We operate a small, specialist in-house carbon fibre and composite production facility whereby we have the tooling, craftsmanship and resources to produce one-off and small batch carbon components and accessories.
Whether these components are to be cast using an existing mould, replicated using a sample part or designed from scratch following a clients brief, each and every hand made component is turned out to an exact specification and to the highest standards of quality and performance.
From replacement motorcycle, kart and jet-ski parts to larger projects such as a bespoke full suspension mountain bike frame, we have the ability and inclination to deliver.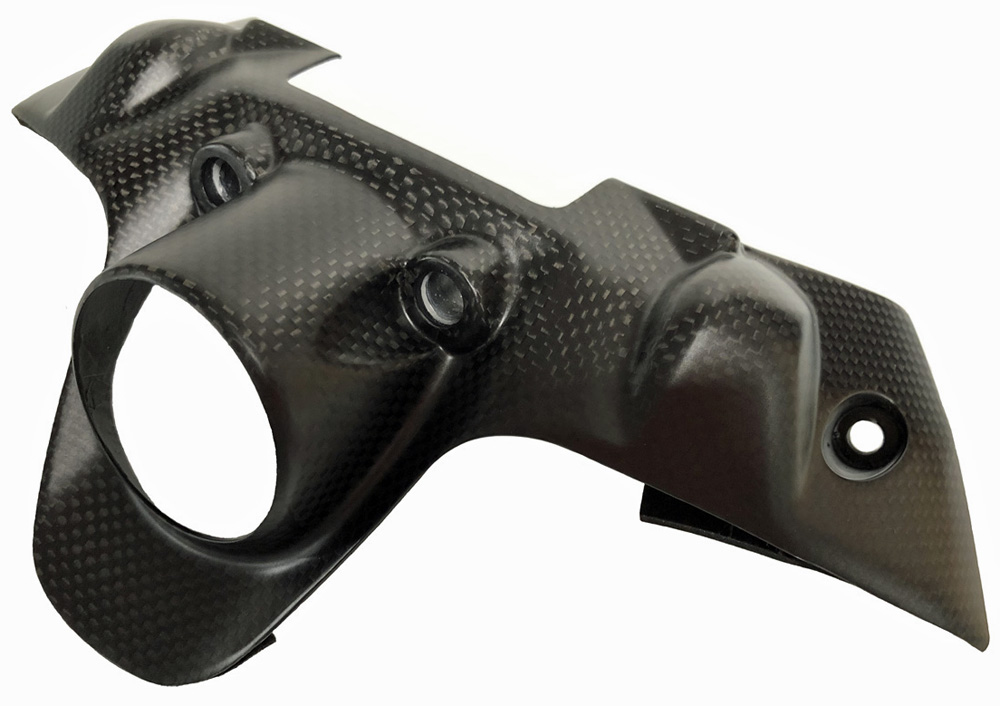 Ducati 959 Panigale Carbon Ignition Surround
CCM Spitfire Carbon Crank Case Cover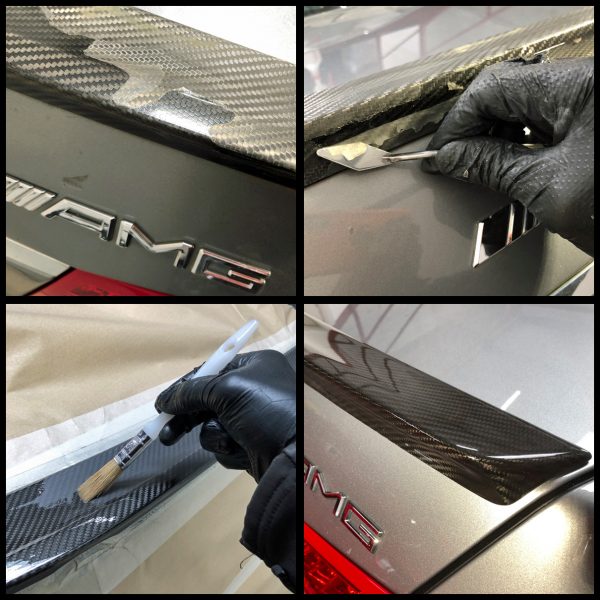 Mercedes E63 AMG Carbon Rear Spoiler Repair
Carbon Fibre Component Repairs – A Busy Workbench!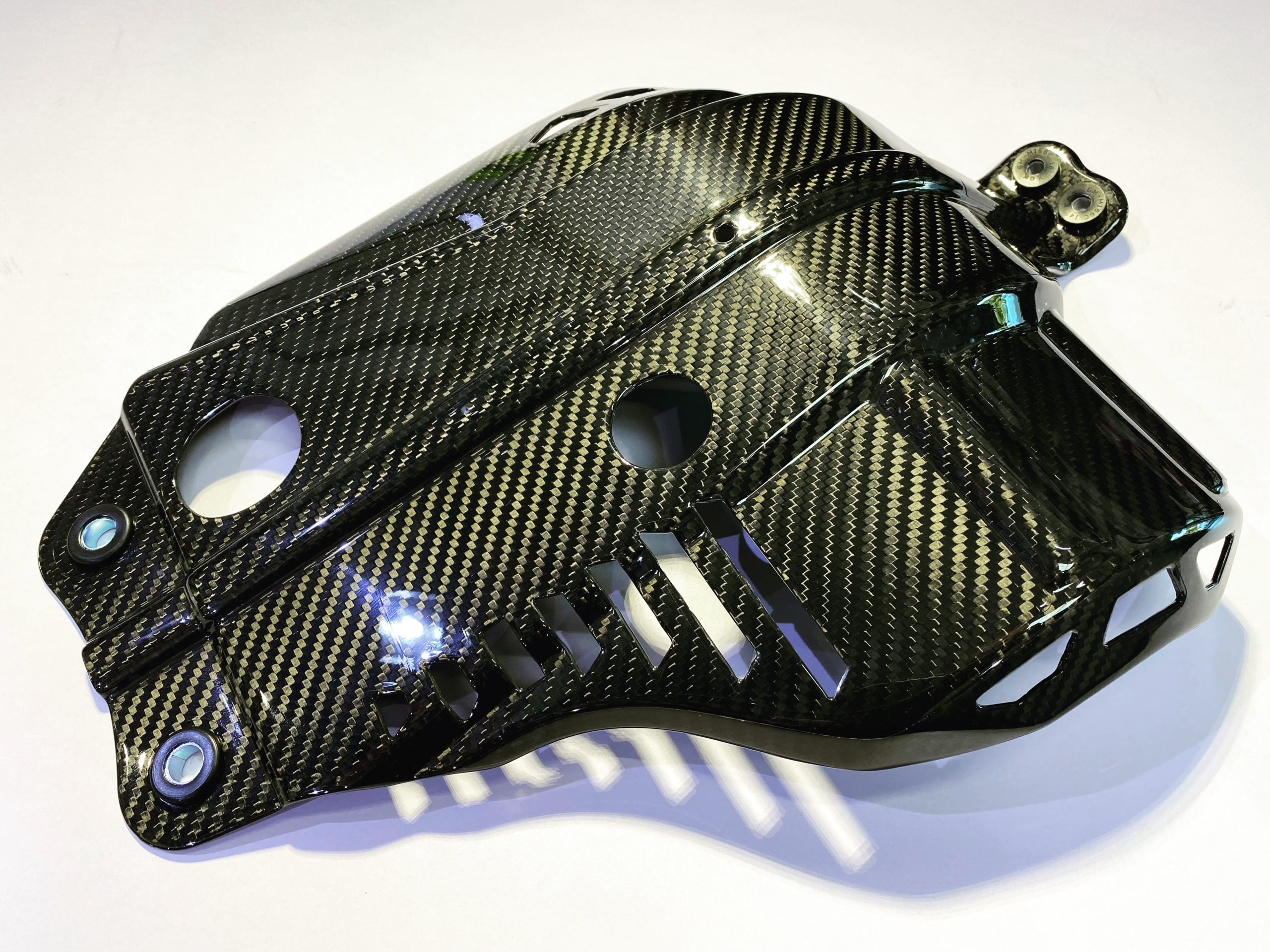 CCM Spitfire Carbon Fibre Bash Plate Fully Protected With PPF Following Repair
Carbon & Composite Repairs
Even though carbon fibre and composite materials are extremely strong, durable and diverse in their range of applications, like all materials, they can still be impaired, either aesthetically or in terms of their intended function. Most commonly, carbon fibre used in the automotive industry can suffer from unsolicited impacts, abrasions, contamination and harmful UV damage.
Using the latest products and techniques, we are able to repair and refurbish the majority of carbon fibre and composite issues that occur as a result of any of the above. Impacted or cracked carbon weave can be replaced and perished or 'yellowing' clear coat (quite often seen on aged carbon fibre as a result of long term UV exposure) can be re-lacquered.
No matter what your carbon fibre and composite requirements may be, it is likely that we can offer a solution. As automotive carbon fibre is so expensive to replace, a repair or refurbishment is almost always a more cost-effective proposition.
Once we have carried out an effective repair, it is always a good idea, and cost effective, to try and prevent any further damage from occurring in the future. We can do this by applying a layer of paint protection film to the surface. Our paint protection film is extremely durable, self-healing, stain & UV resistant and hydrophobic so it will withstand a great deal of punishment, whether it be on the road, track, trail or in the water.
Interested In Carbon Fibre & Composites?