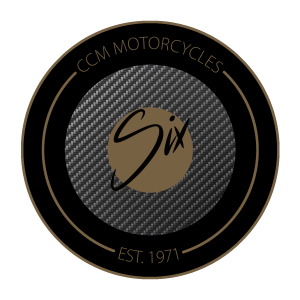 Having designed bespoke paint protection film kits for the majority of models within the CCM Spitfire range, and having completed a number of installations already, we were approached by a client to design and install a kit for his brand new Six motorcycle.
We collected this absolutely beautiful example from our clients home and delivered it safely back to our workshop in preparation for the work to be carried out.
Having worked on a number of CCM Spitfires (not least my own FT6 Flat Tracker), all of which can be considered as works of art, it has to be said that this was the stand out motorcycle to date. Fitted with a number of options , including a gorgeous  liquid mercury fuel tank, burgundy leather quilted seat and full carbon pack, this really was a stunner!
We designed and installed a bespoke self-healing paint protection film kit to cover all of the vulnerable areas of the motorcycle and protect them against damage, stone chips and 'road rash'. We also designed a full kit to cover all of the carbon components, primarily due to their high value nature. Both of these kits are now available to purchase for self-installation or we can install upon request.
To add to the custom look of the bike, we finished it off with a bespoke Carbon Effect 'Fuselage' PPF tank strip and filler cap roundel before loading it back up into the van and delivering it back to our client. Needless to say, he was delighted with the results!